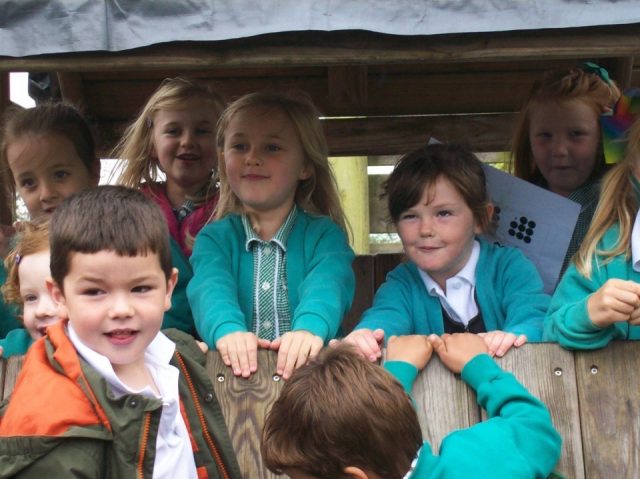 We hope that all children will wear school uniform.  Our school colours are jade green and navy. Please ensure that your child's clothes, games/PE kit  are clearly marked with their name. If washable pen is used, please check regularly to ensure the name is still clearly visible.
Trousers or skirt -  plain grey or navy blue
Shirt or blouse -  plain white (or white polo shirt, which can be purchased with school logo)
Sweatshirt or cardigan - jade green with logo
Girls summer dress - green check
PE Kit
All children must have a change of clothes and footwear for PE.
Our PE Kit is  plain navy or black shorts, plain white t-shirt and black plimsolls.
Plain navy or black Jogging trousers/ leggings and long sleeved plain top/ fleece/ jogging top for PE in colder weather.
Plain Black or white trainers may be worn for outside PE when we are on the field.
Please do not provide branded kit for PE.
All items should be clearly named and have a bag for it to be kept in school.
Many of our uniform items with the school logo can be purchased from the comapny we use, which enables you to purchase on line or from their shop in Dereham. Items include polo shirt, white PE  Tshirt,  sweatshirt, cardigan, school bookbag, baseball cap, fleece, waterproof jacket. The company is Birds of Dereham, their website is www.schoolwear-uk.com.  We can also order through school if  required.
Jewellery is not permitted with the exception of one pair of stud earrings. It is advised that these are not worn for school on PE days, unless your child is able to remove them by themselves.
Children need to have a change of clothes for PE. This should include shorts, T shirt (jogging/tracksuit trousers and top for colder weather), and plimsolls. Trainers are permitted for outdoors.