Children enjoying our new library
Hello and a very warm welcome to our school, and our web site.
Lyng Church of England Primary school is a smaller than average village primary school, situated in the village of Lyng, in the Wensum Valley.  We have a modern building with wonderful grounds for outdoor learning.
Many of the children here join us from the Wensum Valley Nursery School, adjacent to the school. This enables staff from both settings to work closely together, with parents and children, to ensure a happy transition from nursery to school.
At the end of Year 6, the majority of our children leave us to join Reepham High School and College.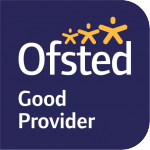 At Lyng Church of England Primary School, what is important is the feeling of a happy family school. We aim for every child to feel secure, valued and able to grow into a confident individual with a love of learning.
We believe that every child is unique and special, and should be given the encouragement and chance to shine, to be the best they can and achieve their personal best.
Our Christian ethos underpins our daily life at Lyng CE Primary School, and through our core values, we aim to inspire each child to value, respect and care for themselves, each other, and our world. We provide a caring and supportive environment to enable every child to feel accepted and respected as part of our school family. We help our children to develop an understanding of values that underpin the Christian faith.
At our school we are committed to providing a broad and varied range of experiences and opportunities. As well as focussing on the core skills of literacy and numeracy, children learn through our topic based creative curriculum. We have high expectations of behaviour and focus on development of positive attitudes to learning. We want our children to leave us as well rounded individuals who love learning and have the confidence and skills to face new challenges.
I am very proud to be the headteacher here and I hope that this website will give you a flavour of our vibrant and happy school.
Dates for your diary
18 September – School Photographs – individuals and family groups.
27 September- Sports tournament Active Kids
28 September – Macmillan Coffee Morning
3 October – Harvest Festival at church
4 October –  Sports Tournament Tag Rugby
12 October- Oak class Outdoors Day at Manor Adventure
31 October  – Rowan Class  visit 'Victorian School Day' ( children are asked to wear Victorian costume)
1 November- Sports Tournament – Cross country
5 November – Oak class visit – WWII day (children will be asked to wear 1940's evacuee costume)
16 November – Children in Need
23 November – Oak class visit to Norwich Cathedral
5 December-  Christmas service (afternoon)
7 December – Christmas service (morning)
School closes at 3.05pm on Wednesday 17 October and reopens at 8.55 am on Monday 29 October ( Half term)
School closes at 3.05 pm on Tuesday 18 December and reopens at 8.55am on Thursday 3  January ( Christmas ))
PARENTS' EVENINGS - 30 October 3.30-5pm; 1 Nov 5-6.30pm ; 7 Nov 4.30-6pm – appointment slips will be sent out.